How SAP and IT organizations are helping the 3.5 billion people without internet access.
For many of us, living without constant access to the internet is unimaginable. We use computers—in one form or another—constantly. But what about those who have minimal, if any, access to the internet? Those who have never even touched a computer? Nearly half of the world's population—3.5 billion people—did not have regular access to the internet this year.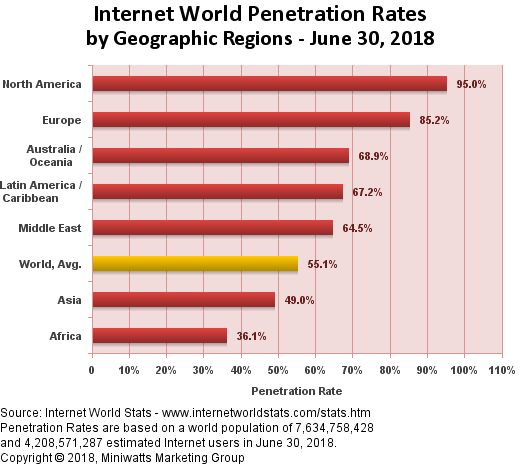 Welcome to the Digital Divide.
Developing countries face major challenges incorporating technology into their infrastructure (cost, political unrest and the inability to service remote areas; to name a few). As of this writing, every area that could easily be connected to the internet is connected, yet in more than 100 countries around the world, less than 50% of their inhabitants have regular access to the internet. Even when they are connected, they experience significantly slower speeds as well as lack of content relevant to their culture or even in their language since few of them can contribute to online media.
Bridging the Digital Divide on the global scale will be a game changer for many countries—connecting developing nations has shown a significant increase in their GDP. On the local scale, however, the divide is more troublesome for many individuals. In areas with less than half of the population online, many families and employers are accustomed to this way of living because so few of them have access. It is very different in countries where internet access is as essential as running water or electricity. You are expected, often required, to be online.
Think about everything the internet offers us—job opportunities, connections to friends and family, necessary communications for work or personal responsibilities, researching products, education, and so many other advantages . Now imagine not being able to access any of that while everyone else continues around you, expecting you to keep up or get left behind. This is the reality for 7 million Americans.
This divide is primarily caused by socioeconomic factors. Students whose families do not have reliable internet access, or a computer, face a much harder time completing their homeworkand are far less likely to do well in school. Individuals who cannot regularly use a computer are less likely to develop their computer skills to the level required by most employers. It is a vicious cycle making it increasingly difficult to escape poverty.
Several companies are stepping up their corporate citizenship efforts to help bridge the divide through free WiFi hotspots, affordable satellite connection initiatives in rural areas, and digital literacy training. Facebook, for instance, is fighting the global divide with their "Free Basics" program which provides free internet in 22 nations. However, it only offers access to about 20 websites— Facebook, of course, being one of them. SAP is also helping by providing CodeWeekprograms around the globe—offering accelerated courses tailored specifically to the technological needs and ability levels of CodeWeek locations, aiming to create economic stability through education.
But how can you get the most out of these skills and connections if you don't have a computer? One local nonprofit set out to fill this gap by getting affordable, quality computers into the hands of those that need them the most.
Meet Digital Bridge.
Jeff Hanson, executive director of Digital Bridge, realized the extent of the digital divide on a volunteer trip to Kenya as a student at Milwaukee School of Engineering (MSOE). While setting up a lab for a local school, it became clear to him that many of the students had never even touched a computer.
Once back in Milwaukee, Hanson heard from many nonprofit organizations desperately searching for affordable computers to connect patrons with resources available through online searches such as jobs, affordable housing, medical care, or education opportunities. Even if they could obtain a used computer, the computers were typically outdated and slow. Digital Bridge began to bridge this divide between those with access to technology and those without by creating an easy way for anyone to donate computer equipment to be refurbished and directed to those in need.
"In Milwaukee, or other major cities, you're expected to be using technology. If you don't have a computer or you're not sure how to use it, it is really going to be hard to function in our society [where] Technology is a necessity, not a privilege… Our biggest goal is that people or businesses should be able to donate a piece of technology as easily as they would donate a shirt, knowing that it can and will be reused."—Jeff Hanson, Executive Director
As a member of the National Association of Information Destruction (NAID) they follow the highest standards of data security to ensure the protection of their donors' information. All equipment is under constant supervision by access employees until it arrives in their secure location. Before any equipment leaves this area, all drives and asset tags are removed, and the entire drive is written over with new data. Any drive that fails the wipe or is not in perfect health is destroyed to ensure security. Digital Bridge makes it easy for you to make a difference with the peace of mind that your data will be securely wiped.
Computers are cleaned, tested, repaired and returned to out-of-box mode with a fresh OS. Eligible nonprofits and individuals are able to choose from several options in their online store, allowing them a similar experience to traditional consumers.
This year alone, Digital Bridge has distributed more than600 computers and redirected 70,000 pounds of e-waste, creating a true bridge to those in need.
They have already helped many people but there is always more to be done. Poverty can be further diminished through access to technology. Think about everything that technology offers us—education, employment, searching for resources, connecting to family and friends… How powerful that can be! If you can reach it.
https://1stbasis.com/wp-content/uploads/2022/04/logo-1.png
0
0
Lisa
https://1stbasis.com/wp-content/uploads/2022/04/logo-1.png
Lisa
2018-12-05 12:37:19
2018-12-05 12:37:19
Bridging the Digital Divide: